Liturgical Living
for the month of September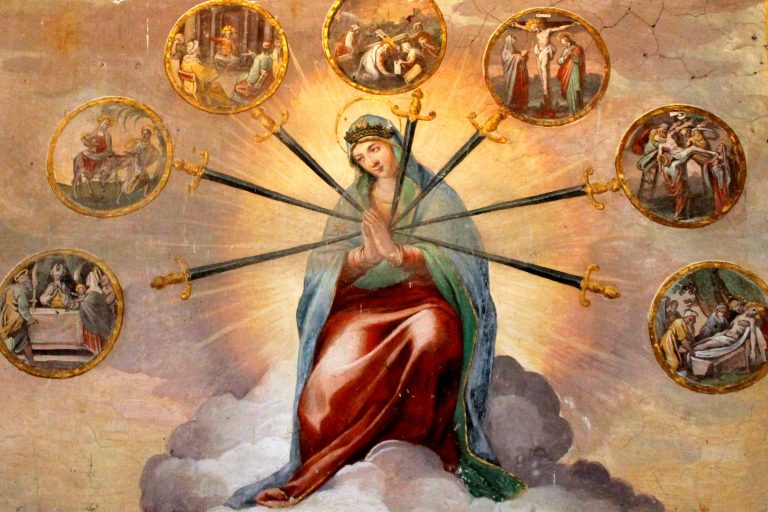 Photo Credit: beautysoancient.com
September is the month of the Seven Sorrows of Mary
September 14th: Exaltation of the Holy Cross
This feast commemorates St. Helen's discovery of the True Cross in 326. Veneration of the cross is traditional for this day. This can easily be done at home with your family's crucifix. Holy Cross also triggers the fall Ember Days. Visit this website for prayers as well as recipe ideas and fun activities to do with children:
September 20th, 22nd, & 23rd: Fall Ember Days
What are Ember Days??? From Kendra Tierney's book, The Catholic All Year Compendium:
"Before the second Vatican Council, Catholics observed Ember and Rogation Days as special times of penitence. These days arose from the agrarian lifestyle of European Catholics and were linked with planting and the harvest of certain crops. As of the 1983 Code of Canon Law, observance of these penitential days is no longer mandatory, and they are no longer universally marked on the General Roman Calendar. They do, however, still appear on the calendar for Masses according to the Extraordinary Form.
Ember Days were observed four times per year for three days over the course of a week: Wednesday, as the day Judas betrayed Jesus; Friday, as the day Jesus was crucified; and Saturday, as the day He was in the tomb. The traditional dates for the Ember Days were the Wednesday, Friday, and Saturday after these days: St. Lucy's Day, December 13th; The first Sunday of Lent; Pentecost; and Holy Cross on September 14th.
Historically tied to agriculture, these days were for giving thanks to God for the seasonal harvests. The spring days were offered for the flower harvest and recalled Baptism. The summer days were offered for the wheat harvest in thanksgiving for the Holy Eucharist. The fall days were offered for the grape harvest in thanksgiving for the Precious Blood. The winter days were offered for the olive harvest in anticipation of the holy oils used in anointing the sick. Priestly ordinations were traditionally performed on the Saturday Ember Days, so these days were also offered as a prayer for priests and for vocations.
Formerly, these were days of required fasting and abstinence, allowing one full meal and two collations, with meat allowed at the principal meal only, except on Fridays, when complete abstinence from meat was required."
In my family, we traditionally reserve the principal meal for dinner on these fasting days, so we can all eat together. And, I like to make a meal with each of the four harvests represented. For example: pasta (wheat) with a meat-free sauce, broccoli (flowers), fresh bread (wheat) and olive oil (olives), and wine (grapes) or grape juice for the little kids.
September 15th: Our Lady of Sorrows
Pray a Seven Sorrows Rosary! Find the text, here:
September 21st: The Feast of St. Matthew
Read the Call of Matthew (Matthew 9:9-13) from Scripture together as a family. Read the Beatitudes from the Sermon on the Mount (Matthew 5:3-12). Make silver dollar pancakes (Matthew was a tax collector!), and have breakfast for dinner. Here are some more ideas:
Sermon on the Mount Coloring Page
The Beatitudes for Kids Printable Pack
September 22nd: Begin the St. Thérèse Novena. Find the text, and sign up for daily reminders here:
St. Therese Novena - Pray More Novenas - Novena Prayers & Catholic Devotion
September 29th: Michaelmas: Saints Michael, Gabriel, and Raphael, Archangels
This is one of my favorite feasts of the entire year! It's on a Friday this year, which means it should be a day of abstinence from meat. If there ever was a time to do an alternate penance, this is it!
Tradition dictates that you should eat a goose for Michaelmas. Goose is so strongly associated with Michaelmas in Ireland that the old, Irish name for the feast is, "Fómhar na Géanna," "harvest of the geese." By the way, I couldn't hope to spell those Irish words phonetically. If you'd like to know how to pronounce them, just catch me between Masses one Sunday! Stuffing recipes for Michaelmas vary widely but usually include apples and potatoes (Mine also has sausage.). Other traditional foods include fall/harvest-type things. I'm a great fan of the Pioneer Woman's whiskey-glazed carrots. I also like to make an angel food cake (See what I did there?) with blackberry brandy sauce.
There is a fantastic and whimsical legend, which says that when Satan was thrown from Heaven by St. Michael, he landed in a blackberry bush, and, in his fury, spat on the berries and soured them. So, in my family, we eat all our blackberries on Michaelmas before they're contaminated with Satan spit!
Here are the recipes I like to use, but feel free to make new traditions for your families!
Goose, Stuffing, & Apples Publix sometimes carries geese and can also order them for you, but they're usually about $70. You can totally use this recipe with a chicken for a lower-cost option!
Blackberry Brandy Sauce (I recommend using calvados both for this sauce and the apple recipe above.)
September 30th: Blessing of the Animals
Father Randy will be available at 10:00 AM to bless your pets at the church. This event is in anticipation of the Feast of St. Francis, which is on October 4th.
Other Feasts for the Month of September:
St. Mother Teresa September 5th
Nativity of the Blessed Virgin Mary/Our Lady of Velankanni September 8th
St. Peter Claver September 9th
The Most Holy Name of Mary September 12th
St. John Chrysostom September 13th
Saints Cyprian & Cornelius September 16th
Saint Januarius September 19th
Saint Andrew Kim Tae-gon, Paul Chong Ha-sang, & Companions September 20th
St. Padre Pio September 23rd
Saints Cosmos & Damian September 26th
Saint Vincent de Paul; Our Lady, Star of the Sea September 27th
Saint Wenceslaus; Saint Lawrence Ruiz & Companions September 28th
Saint Jerome September 30th
I encourage you to do some research on any of these that may be important to your family. Catholic culture is universal AND personal. Celebrate the feasts that are significant to you. Our faith is super fun!
Recommended FREE Catholic apps for iPhone and Android:
Laudate: The most comprehensive Catholic app: daily readings, prayers, podcasts, rosaries, and more!
iBreviary: brings the traditional Catholic prayer of the Breviary and all the texts of the liturgy to your device.