for the month of December
by Heather Gardner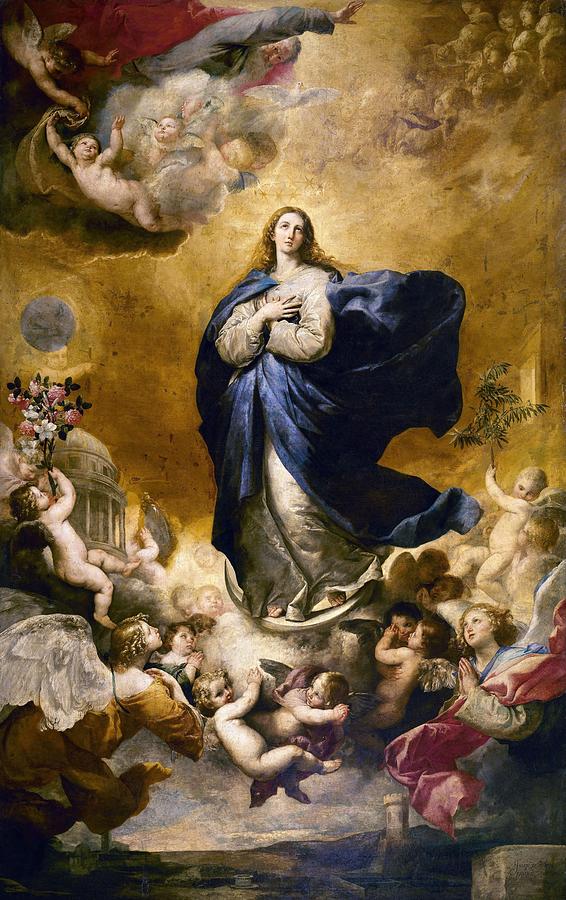 December is the Month of the Immaculate Conception
Read on for a list of this month's feast days and ways you can celebrate them with your families. Find links for prayers, recipes, activities, and videos. Live your faith out loud!
December 1st: First Friday Devotion to the Sacred Heart of Jesus
This is a devotion made known to St. Margaret Mary Alcoque through a series of visions of Our Lord. A plenary indulgence is granted by the Church for completing this devotion which includes going to Confession, attending Mass, and receiving Communion on the first Friday of the month for nine consecutive months. A complete list of the promises Jesus makes to those who practice this devotion, as well as written and video instructions for completing it, can be found here.
December 2nd: First Saturday Devotion to the Immaculate Heart of Mary/Catholic New Year's Eve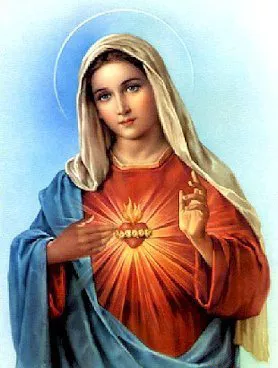 First Saturday
In 1925, The Blessed Virgin Mary reappeared to the principal seer of Fatima, Lucia dos Santos, and requested the propagation of this devotion which consists of going to Confession, receiving Communion, praying the Rosary, and meditating on all the mysteries of the Rosary for 15 minutes on the first Saturday of the month for five consecutive months. Complete written instructions for the devotion can be found here, and video instructions can be found here.
Catholic New Year's Eve
Tomorrow is the First Sunday of Advent and the beginning of the new liturgical year. That means tonight is Catholic New Year's Eve! I usually try to do a fancier meal and a champagne toast to celebrate this. My kids get sparkling grape juice in place of the champagne. I serve it to them in champagne flutes, and it's a major hit!
December 3rd: First Sunday of Advent
Advent is the season of preparation for Christmas and is the beginning of the Church's liturgical year. The liturgical color for the season is purple. If you're not in the habit of routinely going to Confession, Advent is a great time to start. Father Randy says that part of preparing for any great feast is considering our own state of grace. Confession at St. Anna's is available every Saturday from 3:30-4:30 PM, and there will be an Advent Penance Service on Tuesday, December 12th at 7:00PM. Other area parishes will also host Advent Penance Services: St. Joseph-12/4 7:00 PM; St. Matthew-12/5 7:00 PM; St. Lawrence-12/6 7:00 PM; UGA Catholic Center-12/6 7:00 PM; St. Oliver Plunkett-12/14 7:00 PM
The most well-known Advent tradition is probably that of the Advent wreath—a wreath with three purple candles and one pink. One candle is lit each week during Advent. Some wreaths also have a white candle (The Christ or Christmas candle) in the middle. When Advent begins in November, I put our November candle with the names of our family's dead on it in the middle of our Advent wreath before switching to the Christ candle on December 1st. We keep our wreath on the kitchen table and light it every night at dinner. After the meal, we do our Jesse Tree readings, and then my kids argue over who gets to blow out the candles. I also have a second Advent wreath on my dining room table that only gets lit on Sundays when our whole Village is at the house.
Another much-loved Advent tradition is the Jesse Tree. A Jesse Tree is a small tree where you hang one ornament every day from December 1st-25th, each representing a person or event from the Old Testament, leading up to the birth of Jesus. This is typically done in conjunction with a daily Scripture reading. Catholic Icing has some great information about getting started with this. In my family, we use this book of Jesse Tree readings by Kendra Tierney with Jesse Tree ornaments we made with our homeschool group several years ago.
If you're into veiling at Mass, I think it's fun to wear veils that match the liturgical color of the season. You can find pretty, purple veils for all budgets at Amazon or Veils by Lily. If you've seen me at Mass with my plain black one, I got that on Amazon for like ten bucks. There are other sites offering veils as well, but I don't have personal experience with those.
There are no hard and fast rules about how to "do" Advent. I'll tell you what we do in my family, and you're free to totally ignore me, totally copy me, or anything in between. Here's a quick(ish) rundown of things that are my jam during Advent:
I bring out most of my decorations for the First Sunday of Advent. I feel like decorating is part of preparing, so it's completely valid to decorate before Christmas. The exceptions are the family Christmas tree, the baby Jesus, and the wisemen. I do two Christmas trees. I have a fake one that goes in my front room window right at the beginning of Advent with white lights and red and silver ball ornaments only. This is my "fancy tree" because I love elegant and simple Christmas decorations. I get a real tree to go in our family room where the kids open presents on Christmas morning, and that tree has all their handmade ornaments and more kid-friendly stuff. We don't put up this tree until the Saturday before Gaudete Sunday (Third Sunday of Advent). We have three different nativity sets, which we set up right away, but we don't put baby Jesus in the manger until Christmas morning, and that happens before breakfast, or presents, or anything else. The three wisemen get stationed somewhere across the room from the creche, and they travel, little by little, toward "Bethlehem" until the Epiphany (January 6th) when they finally arrive to meet the Newborn King.
We do listen to Christmas music during Advent. Again, I feel like this puts me in a Christmas-y mood and helps prepare me for the joy of the Christmas season. During Advent, though, I try to play the Advent hymns more frequently such as People, Look East and O Come, O Come Emmanuel.
I one hundred percent do the Elf on the Shelf. He arrives on the First Sunday of Advent bringing treats for breakfast. He brings treats on all the Sundays of Advent, but he just hides and plays practical jokes on all the other nights. He gets up to all kinds of mischief including things like drawing faces on our picture frames with dry erase markers and dying our milk green and covering the kids' toilet with wrapping paper. I know a lot of other parents wail and grind their teeth about the elf, but I think it's hilarious. Pranking my children every night for a month is an uproarious good time in my book. My kids who are too old to believe in the elf love helping me think of ideas to surprise and amuse their younger siblings with it. The Pioneer Woman has a lot of fun elf ideas on her website, but you can also just Google, "elf on the shelf ideas," if you need more inspiration!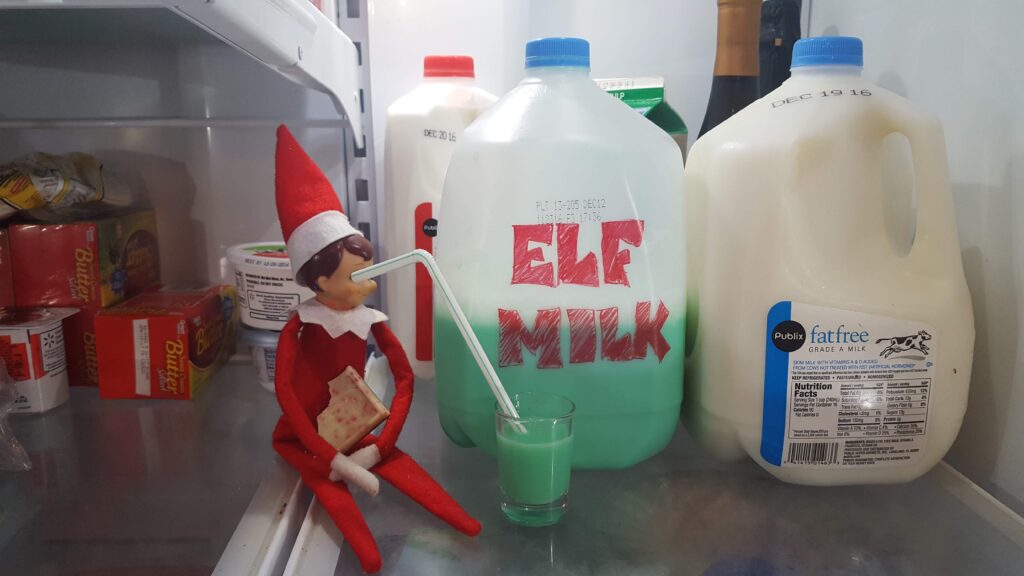 The USCCB has quick little daily prayers and activities arranged into an Advent Calendar available for download in English and Spanish on their website. If you'd like to print this but don't have a printer at home, feel free to stop by my office. I'd be delighted to print one for you!
VIDEO: Fr. Mike Schmitz The True Meaning of Advent
VIDEO: Enya O Come, O Come Emmanuel There is not a more beautiful recording of this song, in my opinion.
December 6th: St. Nicholas
Ah, the Santa Claus question. Somehow St. Nick has become mildly controversial among Catholics who wonder if Santa is too secular for a Christ-centered Christmas. Here's the thing: Santa was a Catholic. He was born in the year 270 to Greek parents in the Roman empire. The area where he was born is part of modern-day Turkey. Nicholas' parents were devoutly Christian, but they died when he was very young, and he was raised by his uncle who was an archbishop. Nicholas became the bishop of Myra in 317.
Nicholas had a reputation as a faithful, kind, and compassionate bishop. He was known to have a particular devotion to the poor and to children. He attended the First Council of Nicaea where he famously argued against Arian heresy, which denies the divinity of Christ. Legend has it that Nicholas became so angry with Arius during this debate that he actually hit him in the face. Personally, I kind of hope this is true. Nicholas was one of the signers of the Nicene Creed, which we recite during Mass every Sunday.
Given that Nicholas lived so long ago, the amount of biographical information we have about him is really quite astonishing. And, I know I say this every month, but I really can't recommend The Catholic All Year Compendium enough. Kendra Tierney includes several pages about the life and times of St. Nicholas in this book.
So, much like my Advent traditions, I'm going to tell you how we handle St. Nick in my family, and you're welcome to take what you want, and leave the rest!
Of course, we believe in Santa Claus! Why wouldn't we? He was a real person, and there is real historical evidence of that. And, because he is a canonized saint, as Catholics, we believe that Santa currently lives in Heaven with Jesus (This is obviously how he "sees you when you're sleeping" and "knows when you're awake."). It also seems like he probably has some type of toy-manufacturing facility in the North Pole because otherwise where are all these elves on shelves coming from? We don't know why St. Nick gets to have a workshop and an elf staff on Earth when no other saints do. Listen, some things are mysteries, and that's okay. We can just be thankful that God works through St. Nicholas in this way to provide such joy. We have no problem believing in flying reindeer or that St. Nick can make a lap around the entire globe in a single evening. Padre Pio could bilocate, and Joseph of Cupertino could fly. God gives superpowers to saints sometimes. In my family, we're 100 percent okay with leaving room for magic in our lives.
My children put out their shoes for St. Nicholas on the evening of December 5th. They wake up on St. Nicholas' Feast the next morning to find that the saint has been to visit and left them some little surprises. In my family, this always includes chocolate coins and Christmas pjs. Sometimes I also do a Shining Light Doll for each kid, or a Christmas-themed group gift.
The tradition of leaving out shoes for St. Nicholas began in response to one of the most well-known legends about St. Nicholas: His parents had left him a large fortune, but he spent very little on himself, preferring to help those in need. St. Nicholas knew of an elderly and sickly man who had three daughters of marrying age and could not afford to pay dowries for them. Desiring to help the family in secret, St. Nicholas is said to have thrown three bags of gold coins, either through the window or down the chimney, under the cover of darkness. The three girls woke to find the money either in their shoes near the door, or in their stockings hanging by the fire to dry.
Originally, oranges were common St. Nicholas treats both because they represented the "gold balls" that Nicholas had given to the girls and because oranges were often difficult and costly to acquire in some parts of Europe. Oranges certainly aren't scarce in my home. My kids typically go through a five-pound bag of clementines with shocking rapidity. That's why I stick to the chocolate coins instead. Sometimes I throw in chocolate Santas, too. You can turn chocolate Santas into more bishop-y St. Nicholases by adding a cardstock miter and a pipe cleaner crozier, but just being real, I don't have time to do that. Santa is still Saint Nicholas without his hat, so I don't let it bother me! When my kids ask me why Santa doesn't visit their Protestant friends on his feast day, I tell them that St. Nick gives presents to everyone for Jesus' birthday on Christmas, but he only comes to children who are doing their best to observe a prayerful Advent for his feast day. Since most Protestant traditions do not observe Advent at all (Anglicans and Lutherans are notable exceptions.), this is a totally acceptable explanation to them.
For Christmas, my kids get three gifts. It was good enough for Jesus, it's good enough for them. This is a philosophy I learned from my bestie, Terri, over a decade ago. The way it works in my family is that two of my kids' gifts come from St. Nick, and one comes from Mom and Dad. They do receive gifts from other extended family as well, but as far as what I buy and put under the tree, it's three things. I wrap the two gifts from St. Nick in Santa paper. Last year I got some wrapping paper that actually depicted him as a bishop on Amazon, but it's not available anymore, or I'd link you to it. Here's a book about St. Nicholas for your kids instead.
chocolate coins ; less fancy but much cheaper chocolate coins
Five Saints Who Totally Had Superpowers
A Mega Ton of St. Nick Crafts for Kids
December 8th: IMMACULATE CONCEPTION: HOLY DAY OF OBLIGATION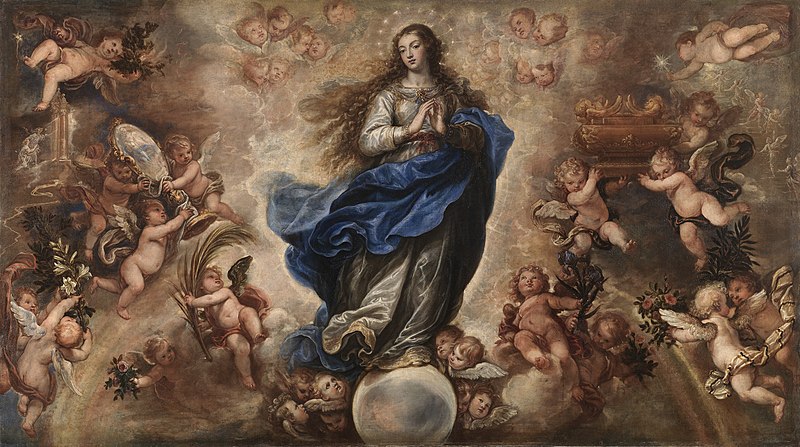 Immaculate Conception is both a solemnity and a holy day of obligation. In the Catholic Church, there is a hierarchy of celebrations. In ascending order of importance, the hierarchy is: optional memorial, obligatory memorial, feast, and solemnity. Here's an article from EWTN that explains this in more detail. A holy day of obligation is a day when all the faithful are obliged to attend Mass. Intentionally skipping Mass on a holy day of obligation without a serious reason is a grave sin that should be sacramentally confessed.
Mass times at St. Anna's for the Holy Day are 12:15 PM and 6:00 PM. Other area parishes are offering additional Mass times in English and Spanish: St. Oliver Plunkett, Snellville: 9:00 AM, 7:00 PM, 8:30 PM (SP); St. Joseph, Athens: 6:30 AM, 8:30 AM, 5:30 PM, 7:15 PM (SP); UGA Catholic Center, Athens: 8:00 AM, 12:00 PM, 5:30 PM; St. Matthew, Winder: 12/7 Vigil 7:00 PM (SP), 12/8 9:00 AM, 7:00 PM; St. Catherine Labouré, Jefferson: 10:00 AM, 7:15 PM (SP); St. Aelred, Bishop: 12:00 PM, 6:00 PM; St. Lawrence, Lawrenceville: 12/7 Vigil 7:00 PM, 12/8 9:00 AM, 12:15 PM, 6:00 PM (SP).
"Immaculate Conception" refers not to Jesus' conception, but Mary's. As Catholics we believe that Mary was preserved from the stain of original sin by virtue of the foreseen grace of her Son. Our Lady Immaculately Conceived is the patroness of the United States, which is why this solemnity is a holy day of obligation.
Belief in the Immaculate Conception of Mary is not something we are permitted to take or leave as Catholics. It's a dogma of the Church, which means it is a "truth that has been revealed by God and recognized by the Magisterium as something in which all Catholics must believe" (Tierney, 2018, p. 59).
The Litany of Loreto is a traditional prayer for the day. A simple meal idea, per Kendra Tierney's suggestion, is to do a meal of all white foods. The color white is meant to symbolize the purity of the Virgin Mary. Pasta with white sauce is an easy way to use this idea, and dessert can be as simple as vanilla ice cream (Please, get vanilla bean. It's the best kind of vanilla ice cream!). Or, if you're feeling fancier, try a white risotto with the best vanilla cupcakes I've ever had for dessert (Here's a recipe for vanilla buttercream frosting to go with them.).
December 10th: Second Sunday of Advent; Our Lady of Loreto
Second Sunday of Advent
Light the second candle of your Advent wreath, and keep preparing your hearts for the arrival of Our Lord and Savior! See First Sunday of Advent entry above for a link to Advent kids' crafts.
Our Lady of Loreto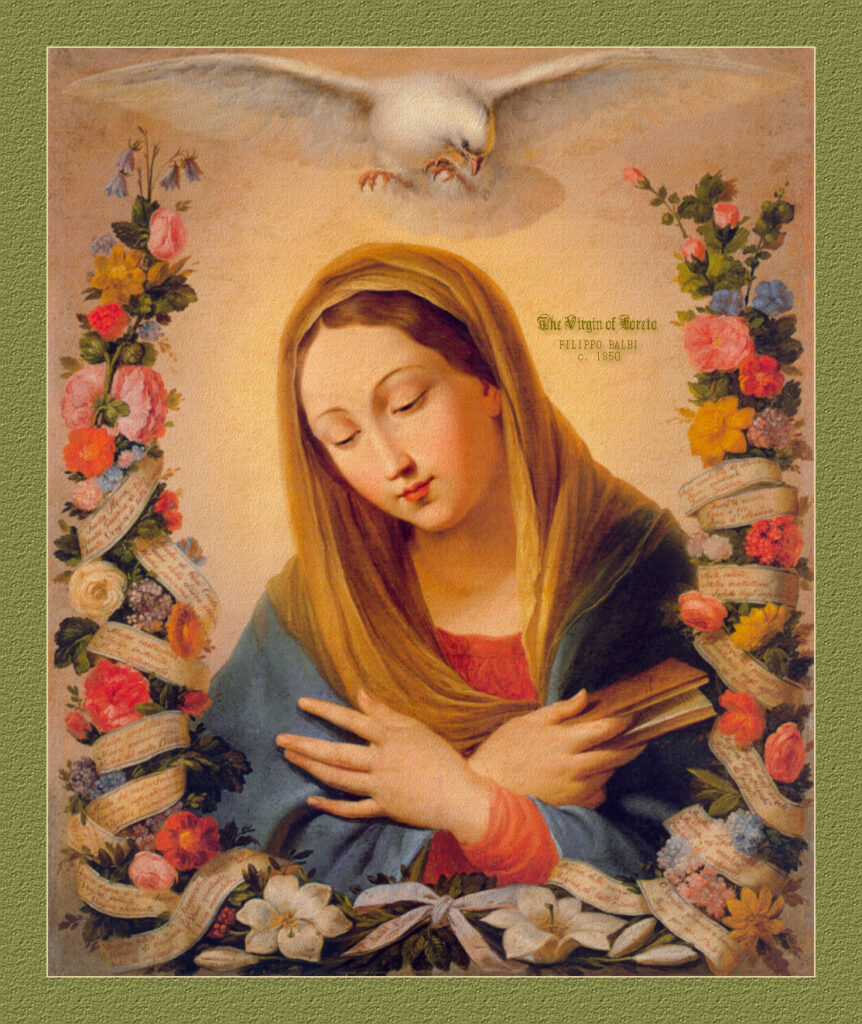 This feast won't be observed liturgically this year because it falls on a Sunday. Because we celebrate the paschal mystery on Sunday, it has unique importance and is only superseded by solemnities or feasts of the Lord. The Sundays of Advent, Lent, and Easter, however, supersede even solemnities and feasts of the Lord. See this web page for more information.
All that being said, you should still feel free to remember Our Lady of Loreto in your celebrations outside of Mass. Loreto refers to the Holy House of Loreto. This is the place where the Blessed Virgin Mary was born and the place where the archangel Gabriel appeared to her to ask if she would be the mother of Jesus.
Tradition holds that a band of angels moved the house from its original location in the Holy Land to Tersato, Dalmatia in 1291, then to Recanati, Italy in 1294, and finally to Loreto, Italy where it has remained since. It is because of all this movement of the house that Our Lady of Loreto became the patroness of those involved with aviation. She also became the patroness of builders and construction workers due to the sturdiness of the house. It might be fun to do an aviation themed meal for this day (Think Biscoff cookies, peanuts, and pretzels!). For the grown-ups, I love Aviation gin. It's got a lovely cardamom flavor that makes it great for spicy cocktails.
Because Our Lady of Loreto is the patroness of builders, and it is Advent, making a gingerbread house is a perfect activity! Recipe WITH Video You can also just buy a kit from the grocery store. December is busy. No judgment!
December 12th: Our Lady of Guadalupe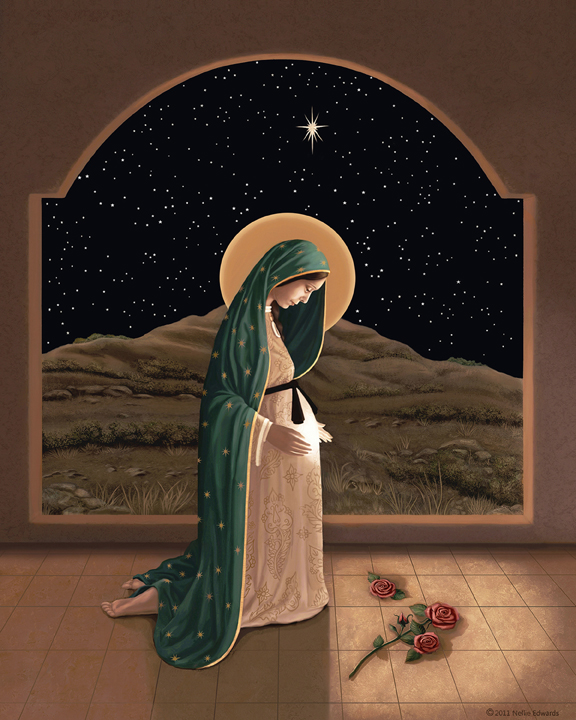 As he walked on his way to Mass on December 9, 1531, Juan Diego witnessed an apparition of the Blessed Virgin Mary who spoke to him in Nahuatl, which was his native language. She had the look and dress of a beautiful, Aztec woman, and she asked Juan Diego to tell his archbishop that she wanted a church built on the site where they met.
Although Juan Diego had little confidence that the archbishop would listen to him, he delivered Mary's message. As he expected, the archbishop did not believe him and told him to ask Mary for a sign as proof. Juan Diego intended to ask for this, but then his uncle fell gravely ill. Feeling obligated to care for his uncle, Juan Diego walked a different route to avoid the Virgin. Mary appeared to him again anyway asking, "Am I not here who am your mother?" She told Juan Diego that his uncle would be healed and that he should pick some roses to take to the archbishop as a sign. She told him he would find the roses, which were certainly out of season in December, growing on the mountaintop.
Juan Diego collected the roses in his tilma (cloak) and brought them to the archbishop. When he opened his tilma, the roses spilled out, and a miraculous image of Mary appeared on the tilma. It was December 12, 1531. The astonished archbishop immediately fell to his knees, and two weeks later construction began on the first chapel at the site of the apparitions.
The tilma on which the image of Our Lady appeared has been extensively studied with scientific tools and tests that were not available in the sixteenth century. These have all concluded that the image could not have been created by a human artist. The tilma, which should have deteriorated into nothingness after just a few years, remains almost perfectly intact and available for pilgrims to view today. Adjacent to the original chapel at the shrine is a dirt floor room where Juan Diego spent the rest of his life as the tilma's caretaker.
This video is a bit on the longer side, about 18 minutes, but it's so worth the watch! It details all the different scientific tests that have been performed on the tilma as well as the results of each.
In Mexico, tamales are traditional fare for the feast. You can buy tamales (Please, do not tell my Mexican comadre that I said that!) if they're too intimidating for you to make. I've made them once myself. It was worth the effort, but it was a lot of effort. I don't think Mama's feelings would be hurt if you simply chose to do a taco night. I also like this recipe for Mexican casserole. I've used it many times for my Sunday crew. It's always a big hit, but I'm here to tell you that I never use reduced fat cheese. Take this tip from my kitchen to yours: You should always use full-fat dairy products when cooking.
VIDEO: Mariachi Serenade for La Virgen de Guadalupe
December 13th: St. Lucy
St. Lucy was a fourth century martyr who was executed in Sicily in 304 during the Roman persecution of Christians. After her father died, her mother became ill and worried that no one would be there to care for Lucy. So, Lucy was betrothed to a nobleman from a pagan family.
Lucy prayed for her mother's recovery from her illness, and St. Agatha appeared to her in a dream to say that her mother would be healed thanks to Lucy's great faith. Lucy and her mother were so grateful that they decided to give their entire fortune to the poor. Lucy's betrothed was greatly displeased at the loss of her dowry, and reported her as a Christian.
When she was brought to trial, she predicted that the governor, Paschasius, and Diocletian would fall from power and die within three years. Paschasius was so angered by this that he had Lucy's eyes gouged out before having her executed. It is for this reason that she is the patron saint of the blind and so heavily associated with light.
In Norway and Sweden on St. Lucy's Day, young girls dress up in white dresses with red sashes and carry palms symbolizing Lucy's martyrdom in procession. They wear St. Lucy crowns on their heads which are composed of evergreen wreaths, lingonberry sprigs, and four white candles. If you'd love to let your daughters try this but aren't keen on putting actual fire on their heads, this St. Lucy crown on Amazon uses miniature light bulbs instead.
Lucy buns or, lussebullar, are saffron-flavored sweet rolls, and they are the traditional breakfast for the day. The rolls are often made in an S-shape with a raisin added to the center of each furl to make them look like Lucy's eyes. The rolls are supposed to be made before dawn by the oldest daughter in the family. My oldest daughter has enjoyed making the buns, but she is not doing it before dawn! And, we actually use canned cinnamon rolls as there often isn't time for homemade saffron buns. If you buy the ones that are actually rolled, you can unroll one side and roll it back up in the opposite direction to make the S-shape. She typically wears one of her dad's white dress shirts with a red mantilla tied around her waist, very easy St. Lucy costume!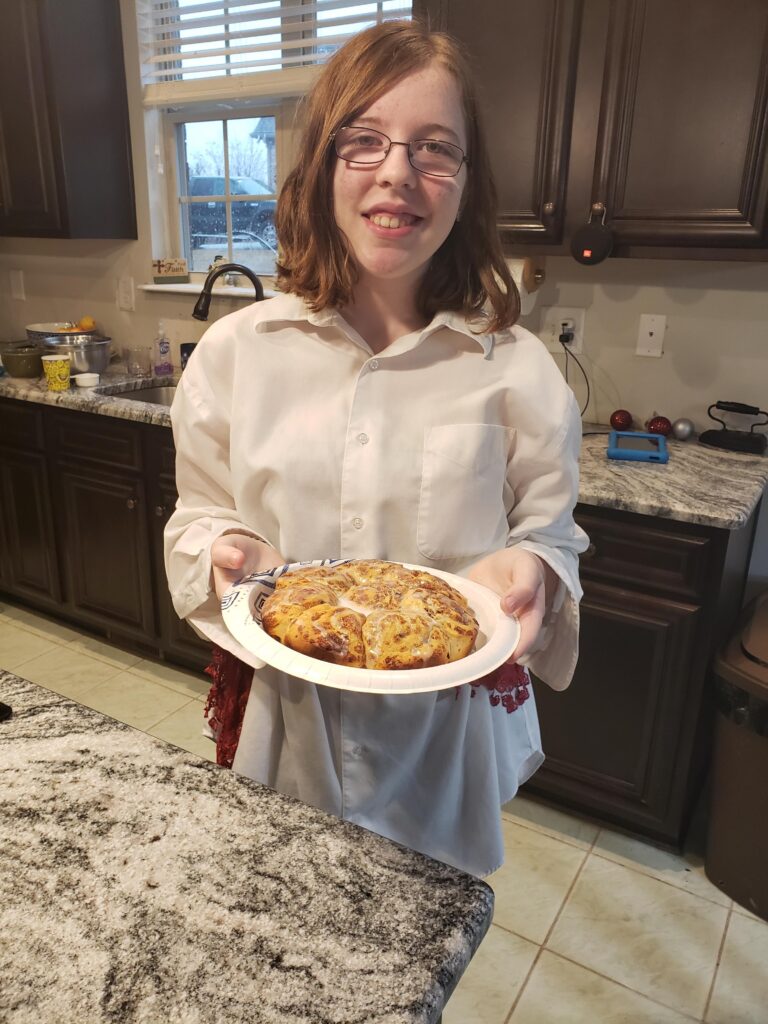 December 16th: Christmas Novena Begins
Today is the first day of the Christmas Novena. Kendra Tierney has compiled all the prayers in an inexpensive paperback book which is available on Amazon. Another version of the prayers is available online here.
December 17th: Third Sunday of Advent
It's Gaudete (Joy) Sunday, and it's time to light the pink candle! In my family, we put up our live Christmas tree during the third weekend of Advent. My girls and I all wear pink to Mass on Gaudete Sunday, and we get to wear our pink mantillas. This year I convinced my son to wear a pink dress shirt for the Easter Vigil, so I'm hopeful it will make a reappearance for Gaudete Sunday!
December 20th, 22nd, & 23rd: Winter Ember Days
What are Ember Days???
From Kendra Tierney's book, The Catholic All Year Compendium:
"Before the second Vatican Council, Catholics observed Ember and Rogation Days as special times of penitence. These days arose from the agrarian lifestyle of European Catholics and were linked with planting and the harvest of certain crops. As of the 1983 Code of Canon Law, observance of these penitential days is no longer mandatory, and they are no longer universally marked on the General Roman Calendar. They do, however, still appear on the calendar for Masses according to the Extraordinary Form.
Ember Days were observed four times per year for three days over the course of a week: Wednesday, as the day Judas betrayed Jesus; Friday, as the day Jesus was crucified; and Saturday, as the day He was in the tomb. The traditional dates for the Ember Days were the Wednesday, Friday, and Saturday after these days: St. Lucy's Day, December 13th; The first Sunday of Lent; Pentecost; and Holy Cross on September 14th.
Historically tied to agriculture, these days were for giving thanks to God for the seasonal harvests. The spring days were offered for the flower harvest and recalled Baptism. The summer days were offered for the wheat harvest in thanksgiving for the Holy Eucharist. The fall days were offered for the grape harvest in thanksgiving for the Precious Blood. The winter days were offered for the olive harvest in anticipation of the holy oils used in anointing the sick. Priestly ordinations were traditionally performed on the Saturday Ember Days, so these days were also offered as a prayer for priests and for vocations.
Formerly, these were days of required fasting and abstinence, allowing one full meal and two collations, with meat allowed at the principal meal only, except on Fridays, when complete abstinence from meat was required."
In my family, we traditionally reserve the principal meal for dinner on these fasting days, so we can all eat together. And, I like to make a meal with each of the four harvests represented. For example: pasta (wheat) with a meat-free sauce, broccoli (flowers), fresh bread (wheat) and olive oil (olives), and wine (grapes) for adults or grape juice for the kids.
December 24th: Fourth Sunday of Advent; Christmas Eve
Quickly! Light that fourth candle because it only gets one day this year! Here's one more Advent hymn really fast!
Christmas Eve, as with the vigils of all great feasts, was traditionally observed as a day of fast and abstinence. There's an Italian tradition called the Feast of the Seven Fishes that's always seemed really cool to me, but it's WAY too much for me to try to get together on Christmas Eve. I normally prep breakfast for Christmas Day on Christmas Eve, and I almost always have presents left to wrap, cleaning to do, plus making sure five kids have bathed and put on their Christmas clothes for Midnight Mass. So, last year, I made slow cooker seafood stew instead. I used, I think, six types of fish in the stew, and then we had calamari or clam strips as an appetizer. It was pretty tasty!
As I alluded to above, we always go to Midnight Mass. It's my favorite Mass of the year, and I have never let having young children (even new babies and toddlers) stop us from observing this tradition. The little kids take a disco nap from their regular bedtime until around 10:00 PM. Then, we get them up, get dressed for Mass, take a few obligatory pictures, and head out to the Church. Sometimes the little ones fall back to sleep during Mass, and that's fine. When we get home, they all get to eat one Christmas cookie, and they put out their cookies and milk for St. Nick. They're usually out pretty quickly by the time they go back to bed. Then, I turn on A Christmas Story and watch a little bit while St. Nick is dropping off the gifts (See the St. Nicholas entry above for how we "do" Santa.). I normally don't get to bed until about 3:00 AM. I know the kids will wake me at 7:00 AM. I'm okay with that. It's a holy and joyful kind of tired.
December 25th: NATIVITY OF THE LORD: HOLY DAY OF OBLIGATION
Happy Christmas! Christmas is both a solemnity and a holy day of obligation. In the Catholic Church, there is a hierarchy of celebrations. In ascending order of importance, the hierarchy is: optional memorial, obligatory memorial, feast, and solemnity. Here's an article from EWTN that explains this in more detail. A holy day of obligation is a day when all the faithful are obliged to attend Mass. Intentionally skipping Mass on a holy day of obligation without a serious reason is a grave sin that should be sacramentally confessed. Christmas Mass times at St. Anna's are 6:00 PM on Christmas Eve, and midnight and 10:00 AM on Christmas Day.
As mentioned above, my family always attends Midnight Mass, so Christmas morning begins for us with putting Baby Jesus in the manger. Jesus goes in the manger, and then we sing Happy Birthday to Him. For breakfast we have pigs-in-a-blanket and what are known in our family as "cream cheese bacon thingies," both of which I prep on Christmas Eve and put on baking sheets in the fridge, so all I have to do on Christmas morning is pop them in the oven. There's also a sampling of all the Christmas cookies I've made. My children are hysterical with joy at being allowed to have cookies at breakfast time.
We usually eat while we're opening presents in our jammies. I try to get everyone to throw their wrapping paper directly into a recycling bag, but apparently that's boring. Once the gifts are opened, and the mess mostly tidied, I turn on A Christmas Story again, and this stays on in the background for most of the day. We always left it on all day when I was a kid, and TBS would air it in an endless loop for 24 hours beginning at 8:00 PM on Christmas Eve.
It's a pretty low-key day in our house. I know the kids are overtired from Midnight Mass and all the excitement, so I try to avoid chaos that could lead to meltdowns. We usually skip lunch because we're full of treats, and the kids are busy with their new treasures. Dinner is ham (savory, not sweet), scalloped potatoes with several dashes of cayenne pepper, fresh green beans, and Sister Schubert's dinner rolls. Sometimes I bake another pumpkin pie if we didn't get enough at Thanksgiving, but sometimes we just eat Christmas cookies for dessert. The kids are typically ready to pass out by 8:00 PM. And, that's the First Day of Christmas at my house. There are 11 more days, y'all. Keep celebrating!
December 26th: St. Stephen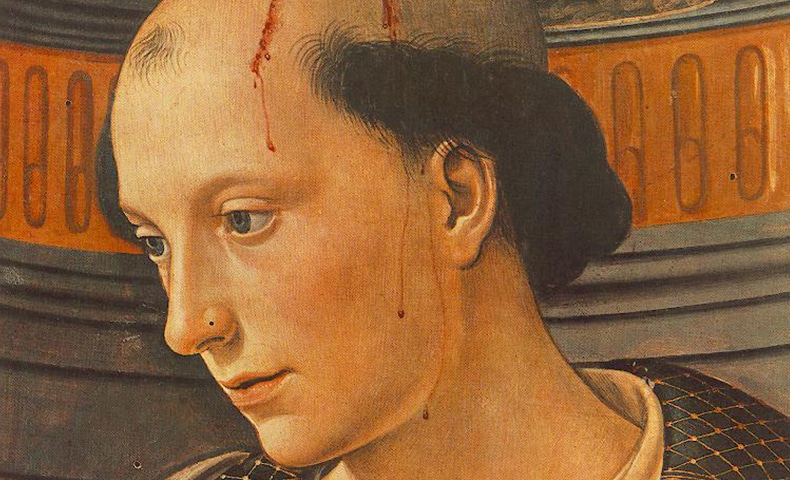 St. Stephen was the first martyr, and his feast day was deliberately placed on the calendar immediately after Christmas Day by early Christians as Scripture does not tell us the date of his execution. The feast day of our first martyr being celebrated on the Second Day of Christmas is a lovely reminder that Jesus was born so that He might die for our sins.
St. Stephen was also one of the first deacons and is their patron, so this is a great day to celebrate deacons and let them know they're appreciated. In addition to deacons, St. Stephen is the patron saint of altar servers, bricklayers, casket makers, and stonemasons. This website has a recipe for St. Stephen's Day Stew that uses your leftover turkey and ham! I've never made it, but it looks good. Let me know if you try it!
December 27th: St. John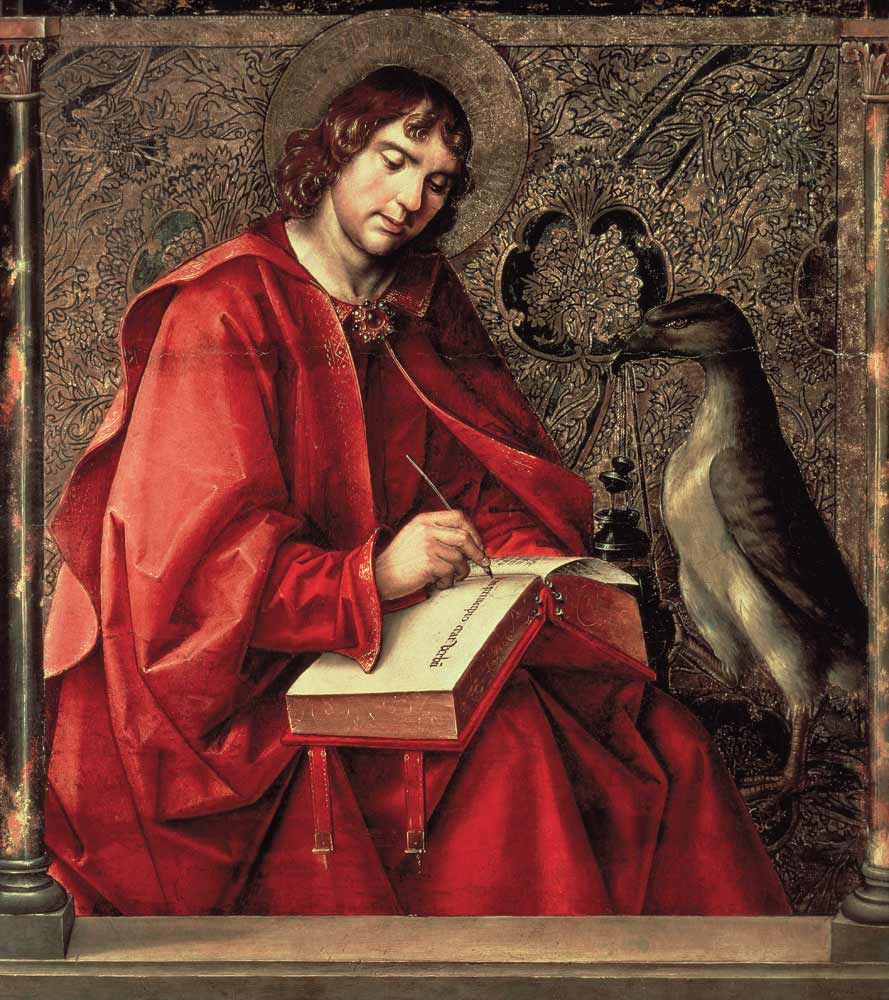 On the Third Day of Christmas, we celebrate St. John the Evangelist, "the disciple whom He loved." St. John was one of the first called by Jesus together with his brother, James the Greater, Andrew, and Simon Peter. He witnessed the Transfiguration, and he was there in the Garden of Gethsemane. He was the only one of the twelve to be at the foot of the cross with the Blessed Virgin Mary and the holy women. He was the only one of the twelve to die of natural causes after surviving two assassination attempts.
A lovely tradition for this feast is drinking the love of St. John, which is explained in detail here.
Other Feasts for the Month of December:
December 3rd: St. Francis Xavier
December 4th: St. John Damascene; St. Barbara
December 7th: St. Ambrose
December 9th: St. Juan Diego
December 11th: Pope St. Damasus I
December 14th: St. John of the Cross
December 21st: St. Peter Canisius
December 23rd: St. John Cantius
December 27th: Blessed Sara Salkaházi
December 28th: The Holy Innocents
December 29th: St. Thomas Becket
December 31st: The Holy Family of Jesus, Mary and Joseph
I encourage you to do some research on any of these that may be important to your family. Catholic culture is universal AND personal. Celebrate the feasts that are significant to you. Our faith is super fun!
Recommended FREE Catholic apps for iPhone and Android:
Laudate: The most comprehensive Catholic app: daily readings, prayers, podcasts, rosaries, and more!
iBreviary: brings the traditional Catholic prayer of the Breviary and all the texts of the Liturgy to your device
References:
Tierney, K. (2018). The catholic all year compendium: Liturgical living for real life. Ignatius Press.